4 Ways To Use Contemporary Kitchen Pendant Lights
The modern kitchen is the place where families spend a lot of their time together. It is a place to gather, prepare meals, and eat. Therefore, it is not a surprise that people are now spending a lot of money to make their kitchens more aesthetically appealing. One of the ways of doing this has to do with the use of pendant lighting for the kitchen island. The good thing about pendant lighting is that you can achieve many different decorative styles with similar functional effects. They are gaining popularity due to their ability to create an inviting and warm atmosphere. In other words, having pendant lights can be engaging and decorative without compromising the need to light up and brighten the entire kitchen space.
The Best Pendant Lighting Options
Pendant lights come in many different forms and decorative styles. But no matter how beautiful they are, their primary purpose is to ensure that the space they are supposed to illuminate is well lit. As such, it is important for you to first consider the functional type of lighting that you would like for your kitchen before starting to think about the aesthetic aspects of lighting. The ideal functional type of lighting usually depends on the type of lighting that your kitchen already has. For instance, if your kitchen space has large windows allowing an adequate light, you may not need a lot more ambient light during the day. However, you may still require task lighting when working on the counter. Furthermore, if your kitchen already has numerous pot lights in the ceiling, all you need is a little decorative sparkle to add a definite wow factor to it. Some common types of contemporary kitchen pendant lighting include:
Accent Lighting
This type of lighting is meant to highlight specific design features of your kitchen. For instance, if you have stylish stone and wood countertops, this type of pendant lighting will go a long way in bringing out the sparkle in its polished surface.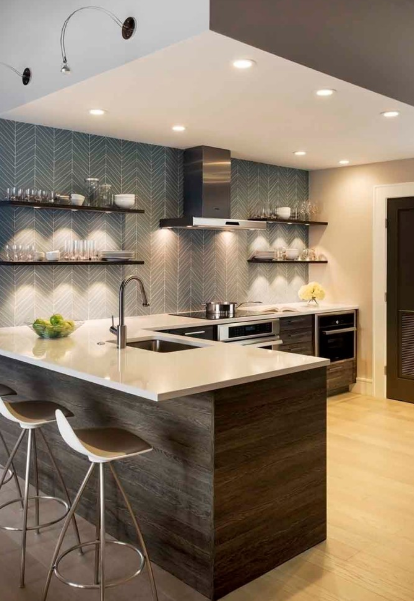 Task Lighting
Task lighting is usually meant to light up specific areas of your kitchen for you to see clearly while working. For instance, if you would like your pendant lights to illuminate kitchen tasks such as chopping, you may have to go a pendant lighting fixture aiming its light downwards. The lighting fixture should also have a translucent or open bottom to allow a high degree of light out.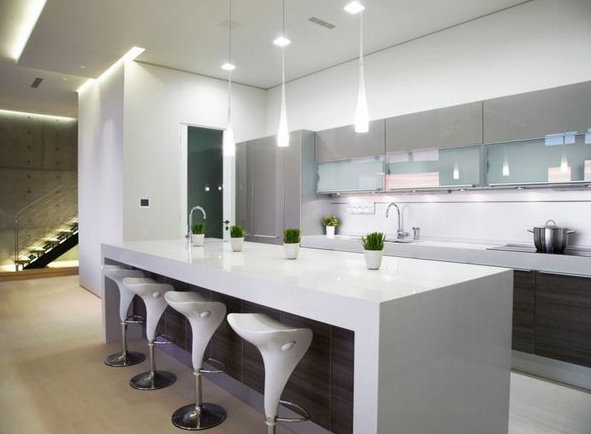 Decorative Lighting
This type of lighting exists for aesthetic purposes. The fixture itself should be visually appealing. Furthermore, the light and the shadow that it produces should enhance the overall appearance of your kitchen.
Ambient Lighting
This type of lighting is meant to illuminate the entire room as opposed to focusing on a specific area. In this regard, you can choose a lighting fixture with several bulbs to produce an even glow. Alternatively, you can go for several lights spread across your kitchen area.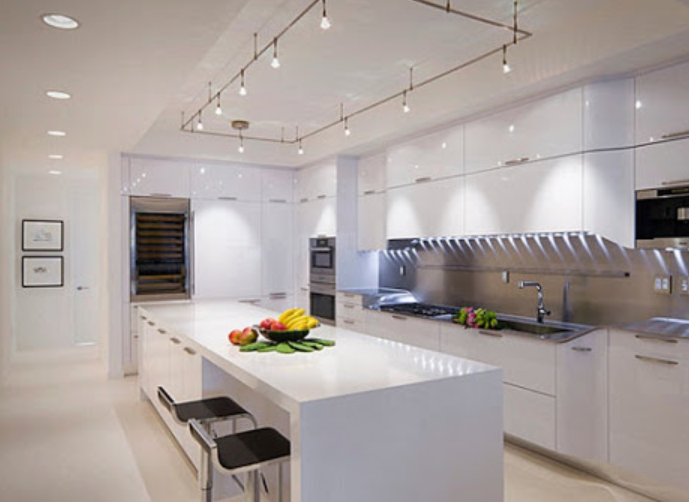 Rustic Pendant Lighting
Rustic pendant lighting can be understood as a lighting style that makes use of lighting fixtures made of simple materials such as wood, metal, and glass. This kind of pendent light is great when it comes to enhancing your overall farmhouse kitchen design theme and bringing the light to where you need it.
How to Use Pendant Lighting in The kitchen
As mentioned above, pendant lighting serves both functional and aesthetic purposes. But how exactly can they help you in this regard? Below are some of the tips that you can count on to get the most from your kitchen pendant lighting.
Choose the Location Wisely
Deciding where to hang your kitchen's pendant lighting fixtures is one of the most important decisions that you have to make in this regard. The right location depends on what you want to achieve. Depending on the results that you are looking to achieve, some common location locations for kitchen pendant lights include above the Kitchen Island, sink, or breakfast table.
Select the Right Size
Kitchen pendant lighting fixtures work best when they are of the right size. In other words, their scale should take into account the size of the area that has to be illuminated. For instance, if you have a limited kitchen space with a relatively short countertop, a single pendant light at the center of your kitchen may be adequate to illuminate your entire kitchen. On the other hand, if your kitchen is relatively bigger, then you may have to install about three identical pendant lighting fixtures to create a sense of design balance and rhythm.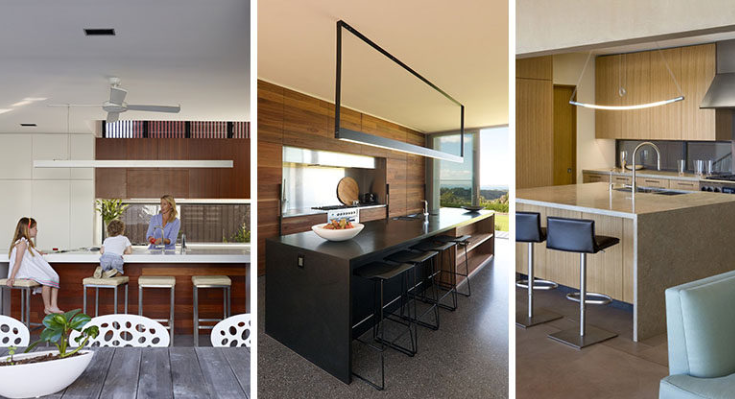 Pick a Style
When you go shopping for contemporary kitchen lighting fixtures, you will realize that you have many different options in terms of colors material, and shapes. This makes it easy for you to achieve whatever you want with your existing kitchen decor. For instance, if you have a rustic-style kitchen, you can have schoolhouse-style pendant lighting fixtures featuring wrought iron, oil-rubber bronze or even antique pewter hardware.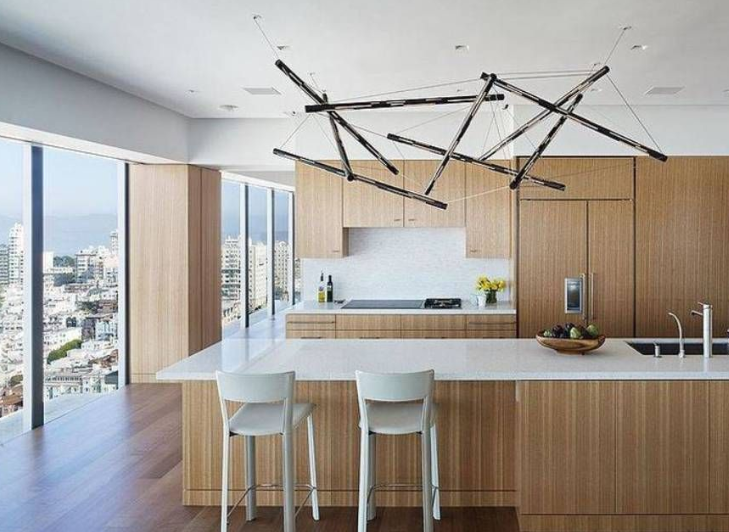 Hang it properly
Whichever the style of pendant lighting that you choose for your kitchen, the lighting fixtures have to hang correctly for them to serve their purpose. For instance, if your pendant light is for task lighting, its bottom rim should be about 30 inches above the counter or the table. On the other hand, if your kitchen's pendant lighting is for ambient lighting, it should hang about five feet from the floor.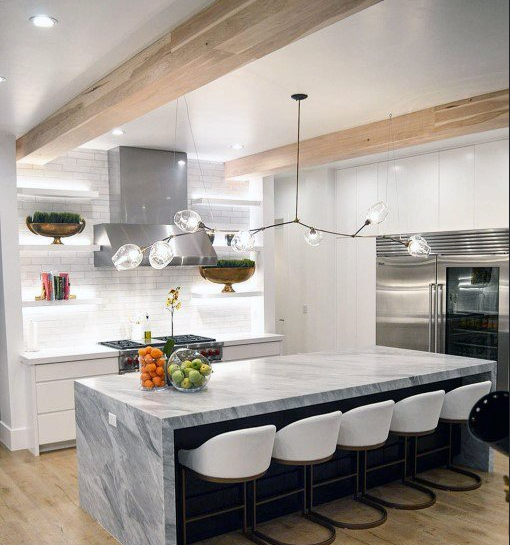 The Bottom Line
Overall, it is apparent that lighting a contemporary kitchen can be quite a daunting task. This is because, in addition to illuminating your kitchen space, lighting fixtures and their effects have to complement your kitchen's interior decor. The good news is that there are many contemporary kitchen pendant lighting options to choose from for you to achieve whatever you want. You just need to do your due diligence to ensure that you get it right. If you don't know where to start or to do to achieve the kind of lighting that you want for your kitchen, you can always consult a lighting expert.