The Perfect Height for Your Dining Room Chandelier
Chandeliers are a great way to add sophisticated style to a room, but you have to install them right. It's particularly important to make sure you hang your chandelier at the right height. If you're not sure how high your chandelier should be or what type of chandelier you should choose, here are some tips to help you.
Why Is Chandelier Height Important?
While chandeliers are an excellent addition to a room in terms of style, they're a lot bulkier than traditional lighting. If you hang a chandelier too low from the ceiling, it will end up getting in the way, especially if you're hanging it over a table or in an area you frequently walk through.
Not only are chandeliers expensive, some of them are made of very fine and fragile materials that you can easily damage. Because of this, you want to avoid bumping into your chandelier as much as possible, which means you need to hang it high enough. You also have to think about how you want the light from your chandelier to fill the room. The higher your chandelier is, the wider the light will spread out and the more it will light up the whole room.
Of course, you don't want to hang your chandelier too high, either. Hanging a chandelier too high gives it an awkward look and can make it more difficult to clean, repair and uninstall the chandelier in the future.
Choosing the Best Chandelier
In addition to hanging your chandelier at the right height, you need to choose the right type of chandelier for your room. While modern chandelier pendant lighting might be best for some dining rooms, you might want a traditional crystal chandelier if you're hanging it in a particular style of living room.
Modern Pendant Light Chandelier
Modern chandeliers are a little more streamlined and sleek looking. Some of these chandeliers are designed to look like single, larger lights. Modern pendant light chandeliers are a great choice if you're looking for something to fit an updated dining room or living room, but they can clash a bit with older decor. These pendant lights are the best choice for most people when it comes to chandeliers because they're stylish, affordable, easy to maintain and fairly compact.
Candle Chandeliers
If you want something a little different, candle chandeliers are a great choice. These chandeliers are arranged in cool geometrical patterns with candle-like lights that give your home an elegant but not overstated look. Candle chandeliers are generally easy to take care of as well.
Crystal Chandeliers
While they're the most difficult to maintain and often the most expensive, crystal chandeliers are what most people think of when they think of chandeliers. These elegant, fragile-looking chandeliers often feature very intricate designs, which is what makes replacing the lights and cleaning everything tough. If you want a classically stylish look, however, crystal chandeliers are great.
How to find the Right Chandelier Height
Finding the right chandelier height depends on the type of chandelier you're hanging, the height of your ceiling and the room you're hanging it in. However, there are some general guidelines that can give you an idea of how high you should be hanging your chandelier.
The good news about chandelier mounting height is that most ceilings are the same height—8 feet. If you're mounting a chandelier over a table with an 8-foot ceiling, it's generally a good idea to mount the chandelier about 30 inches over the table. You might prefer to raise that mounting height to 34 inches or so if it's getting in the way at 30 inches.
If your ceiling is higher than 8 feet, you'll need to raise the mounting height of your chandelier a little bit. Modern chandelier pendant lighting should be raised about 3 inches for every extra foot of ceiling height above 8 feet. If you've got 10 or 12-foot ceilings, you should have your chandelier 6 or 12 inches higher.
When you're hanging a chandelier in the living room, you want to make sure you're giving guests plenty of head room. If your chandelier and ceiling allow for it, try to hang your chandelier so that the bottom of it is 6-1/2 to 7 feet above the floor.
Of course, ideal chandelier height depends on the type of chandelier. If you've got a bulkier chandelier that takes up a lot of space, you may need to hang it a bit higher. However, you want to be careful to give your chandelier a little bit of space from the ceiling. Ultimately, it may be best to see how your chandelier looks and feels at a few different heights so you can decide which one works best for you.
More Tips
When it comes to choosing a chandelier and taking good care of it, there are a few things you need to know. Here's what you should know before you buy a chandelier aside from the importance of choosing the right mounting height.
If you're hanging a chandelier above a table, make sure you're picking a chandelier that's smaller than the table. If it's too large, people may bump into it when standing up from the table. For this same reason (and aesthetic purposes), you should hang your chandelier over the center of the table.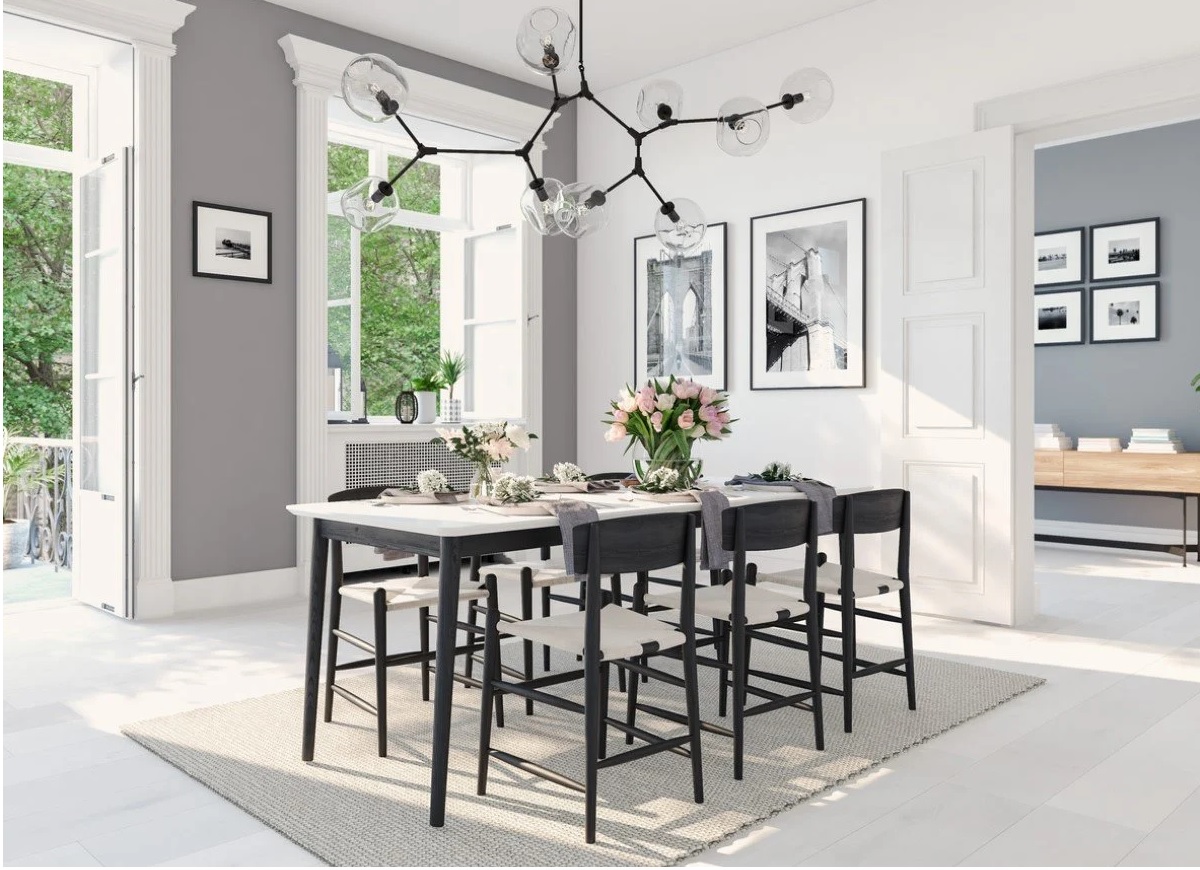 You should also make sure you're cleaning your chandelier regularly. While this might not seem like a big deal, hard-to-remove grime can build up if you don't clean your chandeliers often, and they can already be tough to clean. At the very least, you should dust your chandeliers when you're dusting other parts of your home.
It's important to keep in mind how far you're hanging chandeliers from walls as well. Ideally, you want any chandeliers in your home to be hung at least 48 inches from the walls so people have plenty of space to walk around them. This is especially important in dining rooms.
Getting the Best Lighting
A good chandelier can completely transform the way a dining room or living room looks, but you have to choose the right chandelier and hang it at the proper height. As long as you follow these tips, you can make sure you're getting the best lighting for your home without overcrowding any rooms.