Tips for Lighting Bar Area in USA: Pendants and Chandeliers Lights
A home bar can be one of your sweetest personal treasures. It is a place where you can entertain guests or even unwind after a stressful day at work. If you like sports, your home bar can be an excellent hideaway for you to enjoy big games. However, for a home bar to serve its purpose, there are several design aspects that have to be considered, one of the ones most important being lighting. Indeed, bar lighting can make or break the functionality and even the visual appearance of your bar area. Below is a rundown of some of the bar lighting tips that you can count on to make your bar area look amazing and serve its purpose perfectly.
Layer the Lighting
This may sound unfamiliar to you, but it is quite a straightforward concept. It has to do with focusing on different types of lighting layers, with each layer complementing the other. To this end, you can start with ambient lighting, which basically serves as the primary source of light for your bar area. Some options that you have for ambient lighting include wall-mounted lighting, track lighting, and even recessed lighting. The next layer is what is commonly known as task lighting. As its name suggests, task lighting is meant to help you accomplish specific tasks. In a bar, task lighting can help you focus on tasks such as mixing drinks, finding liquor bottles, or even cleaning glassware. The last layer of lighting is known as accent lighting. It is meant to give your bar area a unique visual appeal.
Lighting The Sitting Area
The sitting area is one of the essential components of your bar area. Although people will generally notice the shelves first, the importance of ensuring that the bar itself is well lit cannot be overemphasized. Lighting the sitting area will ensure that you and your guests have adequate lighting to enjoy yourselves while at the bar. Some of the options that you have for this purpose include:
Pendant Lighting
Contemporary pendant lights in USA are quite common lighting fixtures for bars. They are suspended by cords hanging from the ceiling. Although they are smaller than contemporary chandeliers, pendant lights have more functionality features. Pendant lights come in a wide variety of designs, styles, structures, and even sizes. Despite their relatively smaller sizes, they offer a broader spectrum of light, adequate to cover an entire bar area.
Pendant lighting is ideally seen as a single unit lighting fixture. However, you can also find multi-pendant lighting units. But for contemporary home bar designs, you can count on mono-point pendant lighting units to serve you perfectly. Depending on how you would like to use your bar, you can go for pendant lights with an opaque shade or those without an opaque shade. Pendants lights with opaque shades will help with illuminating the surfaces of your bar, which will create an intimate setting and enhance task lighting. Those without an opaque shading will provide more lights and illuminate the bar area.
Chandelier Lighting
Chandelier lights are known for adding class and elegance to any space. Contemporary chandeliers in USA are no longer for just formal dining room or sitting room lighting; they can now be used for lighting other rooms, including the bar area. They can boost the dynamism and style of your bar. You can go for a rustic chandelier to establish a natural aesthetic or get a modern one to match your modern home décor. In a nutshell, chandelier lighting is an affordable lighting option that can bring a feeling of sophistication and elegance to your bar area.
Track Lighting
Track lighting refers to the kind of lighting in which a series of lighting fixtures are placed on a structure, usually a metal or plastic bar, mounted on the ceiling. This lighting system is quite practical, and it can be very pleasing to the eyes. For many years, track lighting has been applied in theaters, but it can be just as useful for your bar area. Track lighting is quite a powerful lighting option, and you can count on it to flood your entire bar area with light.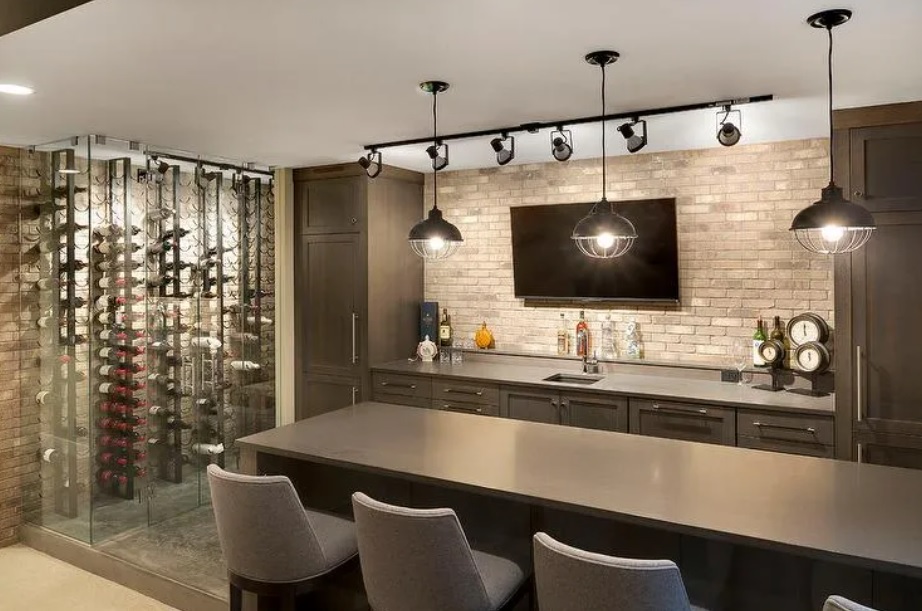 Lighting the Glass and Bottle Display
If you look around any well-organized bar, you will notice that the shelves on which bottle and glasses are displayed have some unique lighting features. When it comes to designing your home bar, this can be an excellent idea. Shelves usually form the backdrop of a bar, and therefore, paying attention to their lighting will go a long way in giving your bar a unique visual appeal. You can try using different colors at varying angles to spice things up. LED lighting can be quite effective in this regard.
Wall Lighting
Pictures and wall art are great additions when it comes to bars' interior décor. However, the visual appeal of your bar's wall decorations will significantly depend on lighting. You can use LED lights to accent them. This will not only enhance the visual appearance of your bar but also make it easier for your visitors to focus on your favorite displays.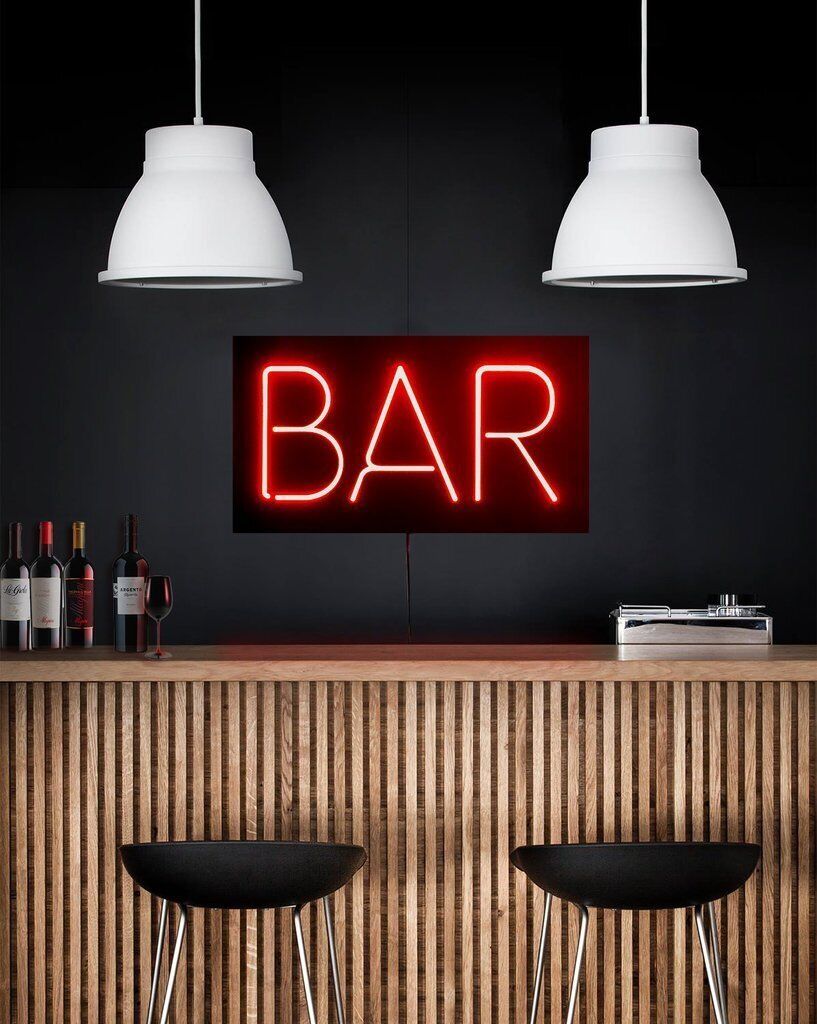 Dimmer Switch
Of course, your bar area may have to be used for several different purposes. Therefore, you have to make its lighting as flexible as possible. One way of doing this is by having a dimmer switch. This switch will enable you to adjust the ambiance of your bar area by simply flipping a switch. Therefore, whether you simply want to unwind after a hard day at work or you would like to host a house party at your bar area, a dimmer switch will enable you to create the right atmosphere.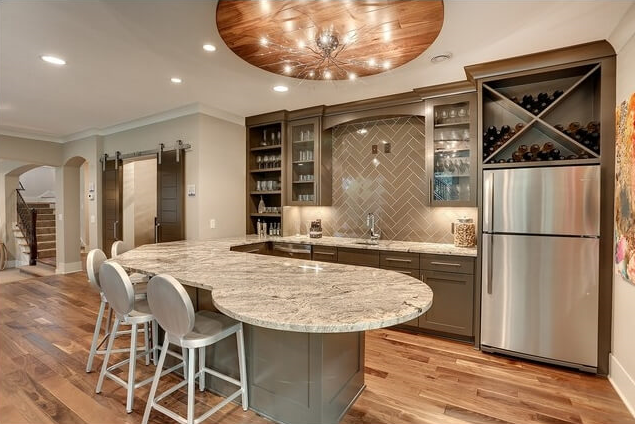 The Takeaway
As you can see, if you have a bar area in your home and you would like to improve its aesthetic appearance, lighting is one of the most important factors that you should consider. The good news is that bar lighting in USA is not hard. By following the above-discussed lighting tips and investing in the right lighting fixtures, you will surely get the most from your bar area. If you are not sure of what you should do to this end, you can always talk to a lighting expert.